Stupid Spanish Fans!
I read some following up news from sina and feel that those fans were crazy in Madrid...or simply stupid A-holes....Now it seems clear why Ronnie threw the water bottle to the spectators seats...It is all about 3 monkey A-holes there insulting Ronnie and his mother..according to the mass, the 3 holes were always sitting on top of the sub seats of Real Madrid side and their utter purpose to sit there is to get the closest distance to show off their uncivilized skills...They insulted many players,coach ... So what can a player do?you are just playing your best to win the game and please the audince with more goals....I feel it is unfair for them to hear those insults regularly from the supporters in fact...Everyone has good time and bad time in career....But what can those A-holes understand? A-holes just holes...Well, I definitely support Ronnie in fact every other players who were insulted in such way...I was pretty amazed that Ronnie hit one of the A-hole's glasses badly from distances...Anyways, the 3 A-holes are also hated by audience next to them...
Also feel sorry for David..he was shouted by a old fan claiming he only has handsome faces nothing else...In return, David gave this fan his jersey after the game...It was amazing to see Beckham turned to be half naked for the first time in Madrid..But you can feel that he is not at good mood of playing and he felt sorry....a typical guy with strong internal locus of control...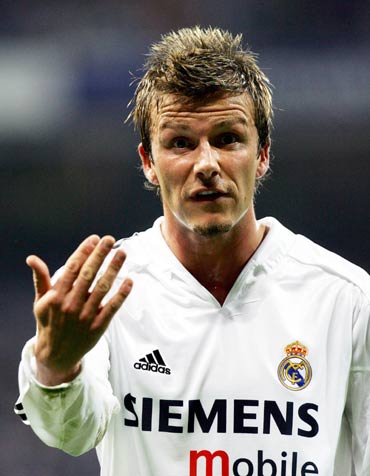 Alright, let the stupid be the stupid...who cares about A or B-holes..